BKW has long been a pioneer in new renewable energies, breaking new ground early on by building what was then Europe's largest solar installation on Mont-Soleil in the Bernese Jura. BKW also operates Juvent, the most powerful wind farm in Switzerland. The new renewables are playing a key role in the company's strategy for growth. On Capital Markets Day at the end of October 2021, BKW announced specific growth targets – which included the addition of 300 megawatts (MW) of renewable energy in order to increase its total installed capacity to more than 1,000 MW by 2026. The company is focusing on wind and solar power installations in Switzerland, Germany, France, Italy, Spain, Portugal, Norway, and Sweden.
In the first few months since then, BKW has already taken major steps toward achieving its goals, having acquired six wind farms in France with an installed capacity of 106 MW. And in Italy, the company concluded a cooperation agreement that enables the acquisition of photovoltaic plants with an installed capacity of up to 250 MW. BKW has already acquired its first projects in Puglia.
Hydroelectric power is also an important pillar of the company's electricity production and will continue to remain so. The small hydroelectric power plants of Arvigo, Augand, and Sousbach will be commissioned in the coming years. Kraftwerke Oberhasli AG, in which BKW holds a 50 percent stake, are in the process of rebuilding the Spitallamm dam wall on the Grimsel. With the new structure on the Trift and the raising of the dam wall on the Grimsel, Kraftwerke Oberhasli will have access to a considerable expansion in its hydroelectric power capacity.
However, BKW is expanding not only its renewable production capacity but also its wind and solar energy services. The company supports its customers with services ranging from advice to installation through to operation of photovoltaic systems. It reached another milestone with the acquisition of Solstis, a company headquartered in western Switzerland. This acquisition has enabled BKW to further contribute to the expansion of solar energy in Switzerland and make an important contribution to the country's energy future.
BKW is making targeted investments in renewable energies and is engaging in trail-blazing solutions to support its customers on their path to a sustainable world.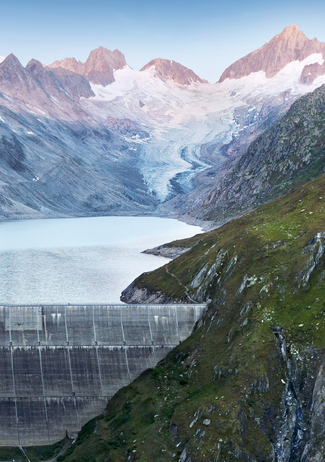 Solutions for a future worth living
Powerful and stable electricity grids are also essential for the energy world of tomorrow. With the modernization and digital transformation of its grids, BKW is ensuring that the backbone of the electricity supply is keeping pace with the demands of the new energy world.
Climate change and the energy transition are presenting society and the economy with enormous challenges. With the expansion of renewable energies, with stable and digitally transformed power grids, and with comprehensive, efficient, and resource-saving services, BKW is accompanying its customers on the path to a sustainable energy system and a future worth living.
Investment

Just under one billion CHF: that's how much BKW will be investing in the energy and services business in the coming years.

Growth target for new renewables

from 700 to 1,000 MW by 2026; focus countries: CH, DE, ES, FR, IT, NO, PT, SE

Wind power

BKW operates Juvent, Switzerland's largest wind farm with an installed capacity of 37.2 MW.

Photovoltaics

Over the last 25 years, Solstis has implemented more than 4,500 projects with around 100 MW of capacity.
Our contribution to sustainability SDG 7: Affordable and clean energy
Access to sustainable energy services, greater energy efficiency, and the expansion of renewable energies are among BKW's key strategic areas. The company is expanding its portfolio of wind farms and now also putting its focus on photovoltaics. By employing trailblazing solutions, BKW is supporting its customers on the journey to a CO2-neutral world and demonstrating its commitment to the UN's Sustainable Development Goals (SDG).
More about sustainability