A network for the living spaces of the future
BKW is a growing network employing over 11,500 people in 140 companies in Switzerland and Europe. We stand for future-proof energy production, resource-efficient infrastructure and environmentally friendly buildings.
Our experts consult with customers on engineering, building technology and smart energy procurement. We plan and implement energy, infrastructure and environmental projects for businesses, private individuals and the public sector.
Expertise for a world of new opportunities
The market and society require new solutions for a carbon-neutral world. The climate objectives can only be achieved if the key issues of infrastructure, buildings and energy are viewed holistically. BKW is able to meet this aspiration thanks to its decades of experience, its technological expertise and its comprehensive competencies. Using a holistic approach, our Group companies combine energy and building solutions with supply and transport infrastructure.
In this way, BKW makes a significant contribution to sustainable social and economic development in order to ensure a balance between prosperity and the environment. It meets growing customer demand for innovative solutions – and creates the foundation for the living spaces of the future.
The BKW network spans eight countries in Europe. A total of 130 subsidiaries at 276 registered offices and 103 production sites deliver products and services under the five competence brands BKW Energy, BKW Building Solutions, BKW Engineering, BKW Infra Services and BKW Power Grid. The BKW Group employs 10,000 people.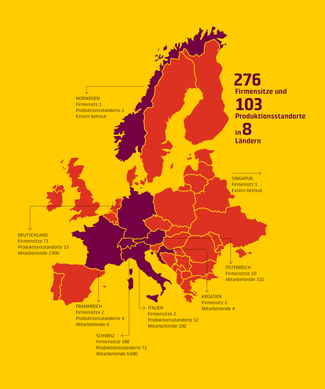 Since its beginnings in 1898, BKW has been at the forefront of cutting-edge developments and the needs of society. The company began life as an energy producer, building power plants that provided energy for the industrial revolution and for the growing society of the 20th century.
For over 100 years, BKW successfully operated as a traditional energy supplier.
In recent years, the company has realigned its strategy with the social megatrends of climate change, urbanisation and digitalisation. With a growth strategy and stronger focus on buildings and infrastructure, the BKW network is designing solutions for a future worth living.