Our goal
We enhance living spaces. In doing so, we generate added value for animals and plants as well as people.
Our method
We build networks and rely on cooperation with strong partners – we can only be successful together.
Established in 2000 following the certification of the Aarberg hydroelectric power plant.
Since its establishment, we have carried out 252 projects ourselves or supported them with financial or technical resources.
CHF 12.4 million from the fund has been invested in Swiss nature.
The BKW eco fund is active in the cantons of Bern, Jura, Basel-Landschaft and Solothurn.
Unanimous, collaborative and devoted to the protection of nature: the steering committee is comprised of representatives from the cantonal technical offices and environmental associations as well as BKW.
Three awards in three years:
2015: Watercourse Award: Aarberg hydroelectric power plant
2016: Best practice in Alpine Convention: Aarberg hydroelectric power plant
2017: Stiftung Landschaftsschutz Schweiz (Swiss Landscape Protection Foundation): energy infrastructure landscape at the Aare-Hagneck canal
Electricity from hydropower: independently certified
Customers who use "naturemade star"-certified electricity from hydropower support the BKW eco fund with one centime per kilowatt hour. We offer private customers the Energy Blue electricity product. Free market customers who use more than 100 MWh of electricity per year can choose the Energy Origin Hydro star product.
"naturemade" is the Swiss seal of quality for energy from 100% renewable sources. The quality seal is supported by the WWF, Pro Natura and the Konsumentenforum consumer association and is awarded by the Association for Environmentally Sound Energy (VUE).
Von wandernden Nasen und treppensteigenden Schneidern
Fische schwimmen gerne gegen den Strom. Dabei überwinden sie auch grössere Hindernisse – wie das Wasserkraftwerk Hagneck, das mit seiner Fischaufstiegshilfe eine Vorreiterrolle einnimmt. Das gross angelegte Umgehungsgewässer ist Schwerpunktthema im Jahresbericht 2020 des BKW Ökofonds.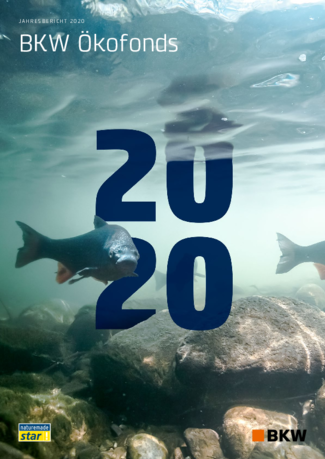 Members of the steering committee
Half of the steering committee is comprised of representatives of environmental associations and external specialists, and the other half is made up of BKW employees. It manages the BKW eco fund and is responsible for the fund's assets. The committee makes decisions unanimously.
Thomas Richli, Managing Director of the

BKW eco fund

Stephan Bütler, President of the

BKW eco fund

Daniel Bernet, Fisheries Inspectorate for

the canton of Bern

Urs Känzig, Department for the Protection

of Nature for the canton of Bern

Martina Breitenstein, representative of

the environmental protection organisations Pro Natura, WWF and the Fisheries Association

Dominique Helfer, Fund Manager

Felix Leiser, Alnus AG

Stephanie Noser, Sales Coordinator
Are you planning ecological improvements? We would be happy to review your project and support it financially if it is appropriate. Please submit your application with the following documents:
Completed funding application form
Technical description (incl. specification of measures and costs)
Project plans
We recommend that you consult with the municipality and the cantonal technical offices first.
Applications are reviewed quarterly by the steering committee. This will be on the following dates in 2021:
| | |
| --- | --- |
| Meeting dates | Submission of application documents by |
| 22 March 2021 | 1 March 2021 |
| 16 June 2021 | 26 May 2021 |
| 8 September 2021 | 18 August 2021 |
| 10 December 2021 | 19 November 2021 |
Please send the application documents digitally (and by post, if necessary) by no later than three weeks before the meeting to the following address: 
All decisions are communicated in writing. If you have any questions, please contact Thomas Richli.
To apply, please use the form found under the following link. The regulations will provide you with further information about the BKW eco fund, the projects supported and the procedure.